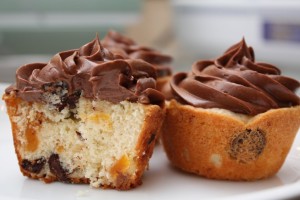 These apricot-dark chocolate pound cake cupcakes were inspired by a cakelove recipe, and I was happy to finally put almond extract to good use. The almond flavor in the cake is a nice complement to the bittersweet chocolate, and these were delicious straight out of the oven with the chocolate bits still melted, and the dried apricot bits still soft and moist.
Unfortunately upon cooling, I found that the dried apricot bits became harder than they were to start out with. I might have to try pre-soaking them next time!
Admittedly, I am not a big fan of pound cake texture as it is denser, and with my unreliable oven from the 80s, my pound cakes are prone to ending up a bit dry and overbaked. But, I have found that pound cakes seem to get the most enthusiastic feedback from the office, so I'll keep working on them!