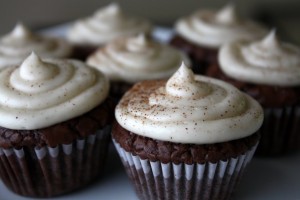 I discovered spicy Mayan hot chocolate at Coupa Cafe in Palo Alto and have loved that spiced up chocolate flavor ever since. When we moved to San Diego, we found out that Chuao Chocolatier, which supplies their chocolate bonbons and hot chocolates to Coupa Cafe, is based here! I was over the moon—an endless supply of spicy chocolate (and other favorites like Firecracker and Panko). Of course, it's a pricey supply, so for Cinco de Mayo, I decided to make Mexican brownies from scratch.
I am sure there are a variety of spices that can be added, but here's a simple way to get the job done:
Take your standard chocolate brownie recipe (a box mix works too) and add about 3/4 tsp. of ground chipotle chili pepper and 1 tsp. of ground cinnamon. I baked these as mini cupcakes, which requires about 18-20 minutes in the oven at 350 degrees, and topped with cinnamon buttercream. Avoid overbaking, since that seems to bake off the spice flavors.