I previewed, but never got a chance to feature, the event that premiered the new Milo's Bonbons logo. At Sandy & Mike's wedding in Malibu earlier this year, we set up a dessert table with a wedding cake centerpiece. It was colorful and fun, and a real smorgasbord of sweets.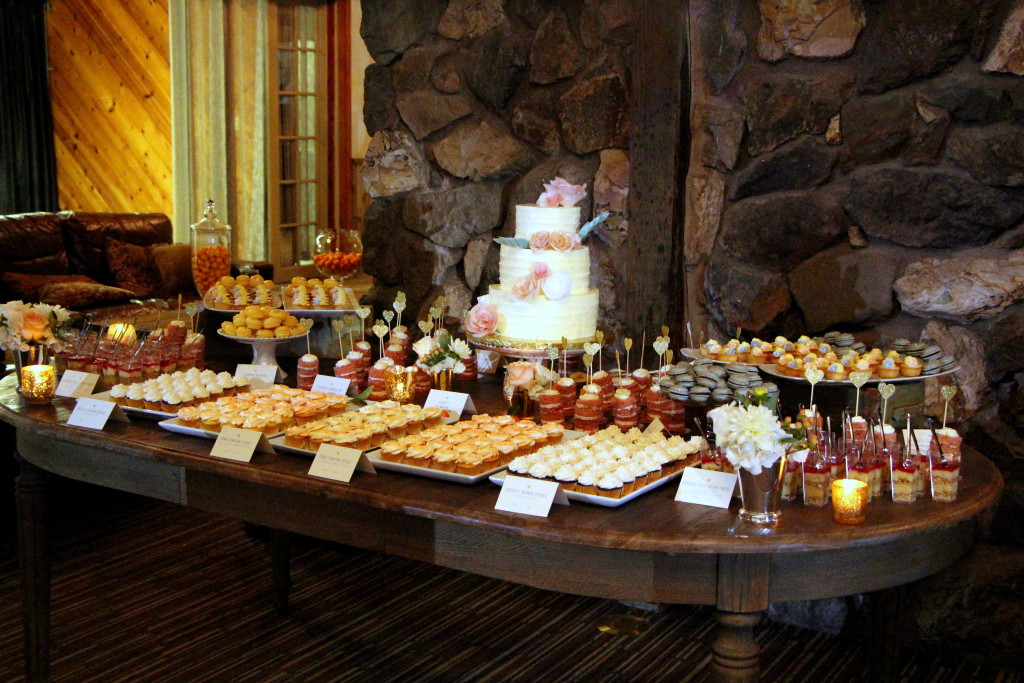 I had a lot of fun collaborating with the bride and groom on interesting flavor ideas and presentation. They were excited to present unique desserts that featured some of their favorite flavors like Earl Grey tea, bourbon and peach. I was also inspired by their wedding colors, which were along the lines of coral and slate blue. What made the experience really special for me was the abundance of support and enthusiasm the couple had for Milo's Bonbons. It was amazing seeing the tent card signs they printed for the desserts, especially the "Desserts by Milo's Bonbons" sign. Thank you Sandy & Mike!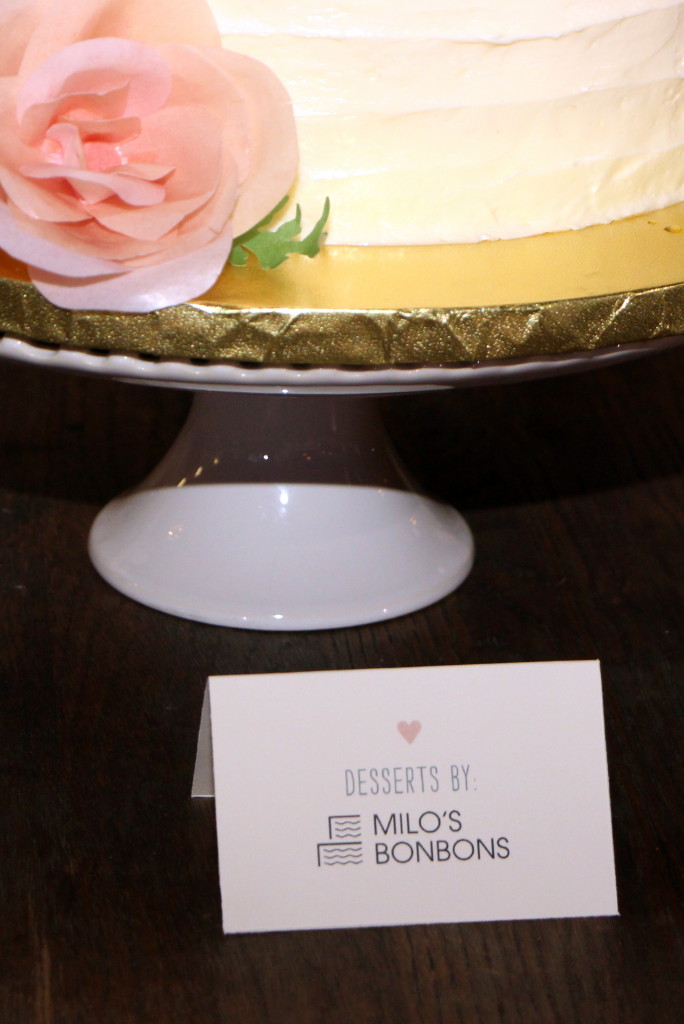 The dessert table featured mini cupcakes, macarons, tarts, mini cakes and parfait cups. For the cupcakes, I made two types: a chocolate bourbon ganache cupcake with bourbon buttercream, and an orange cupcake with champagne buttercream.
For the macarons, I made two types as well: an Earl Grey chocolate ganache macaron, and a passion fruit pastry cream macaron.
The mini tarts had a layer of baked almond cream and was topped with mascarpone mousse and little gumpaste flowers.
To add variety in height and shape, I also had parfait cups filled with layers of granola, peach custard and raspberry puree. The photo I took of them was unfortunately a bit dark.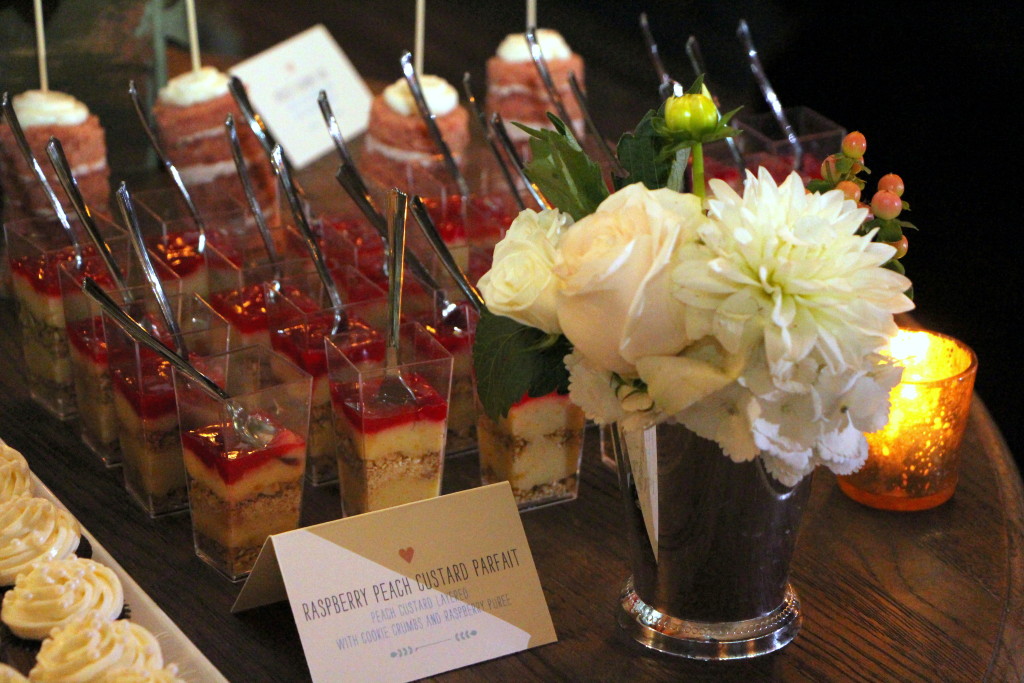 The wedding couple's wedding cake was three tiers, but only the top tier was actual cake for cutting purposes. The bottom two tiers were dummy cakes. The cake was a strawberry layered cake with Chambord buttercream and in order to share this with guests, I also created mini cakes with golden heart skewers added by the bride. That was actually the most challenging item of the event, as I was exploring different cake textures and cutting techniques and learning as I went. I certainly learned a lot for future events!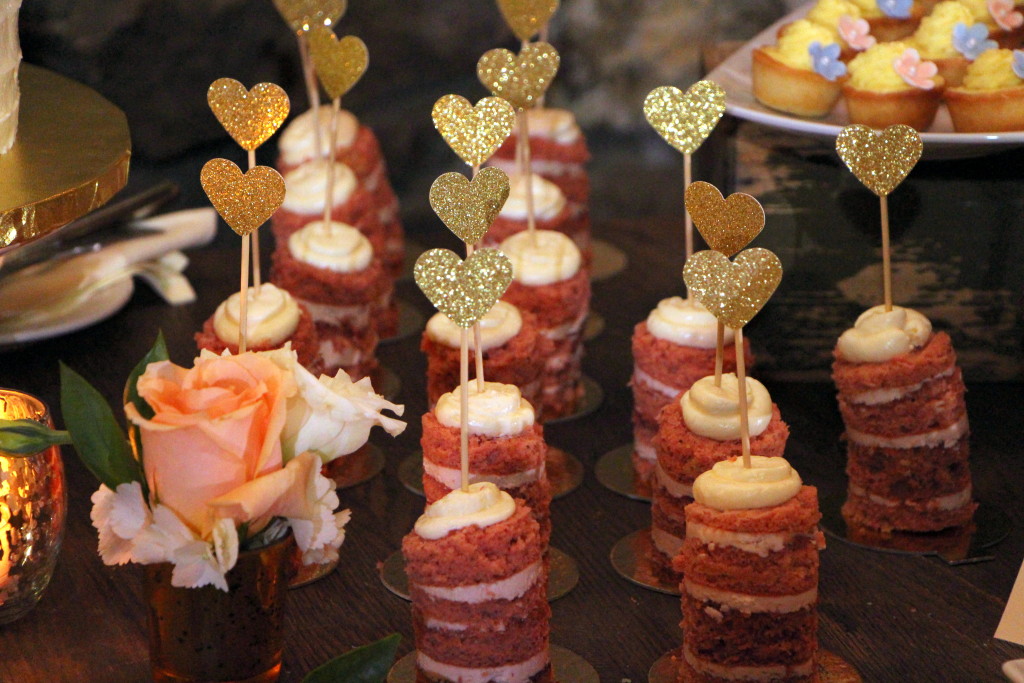 Photo below by onelove photography: