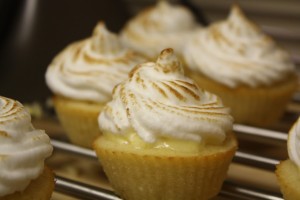 Post-wedding, our kitchen is now happily equipped with a stand mixer and a kitchen torch. That means, not only do I no longer need to hand-beat meringue for 15+ minutes (a vigorous exercise, to say the least), I can brûlée things to my heart's content. Everyone likes to play with fire!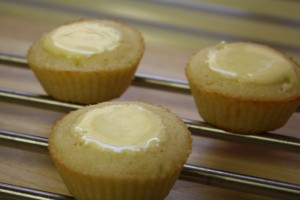 This cupcake bursts with flavor with lemon zest and pulp baked into the fluffy cake and lemon curd on top &mdash or optionally, lemon custard filling the center, as shown in the photo above &mdash contrasted with an airy, whipped meringue frosting.
For this cupcake flavor, I highly recommend a lighter cake to match the topping. While Martha Stewart suggests a lemon buttermilk cake, I find that a recipe closer to cakelove's Light and Lemony Cake is less dense and thus more harmonious with the meringue. I think a sponge cake would be delicious as well. Thanks to my friend Ji at cakes by Ji for introducing me to the wonderful world of cakelove!