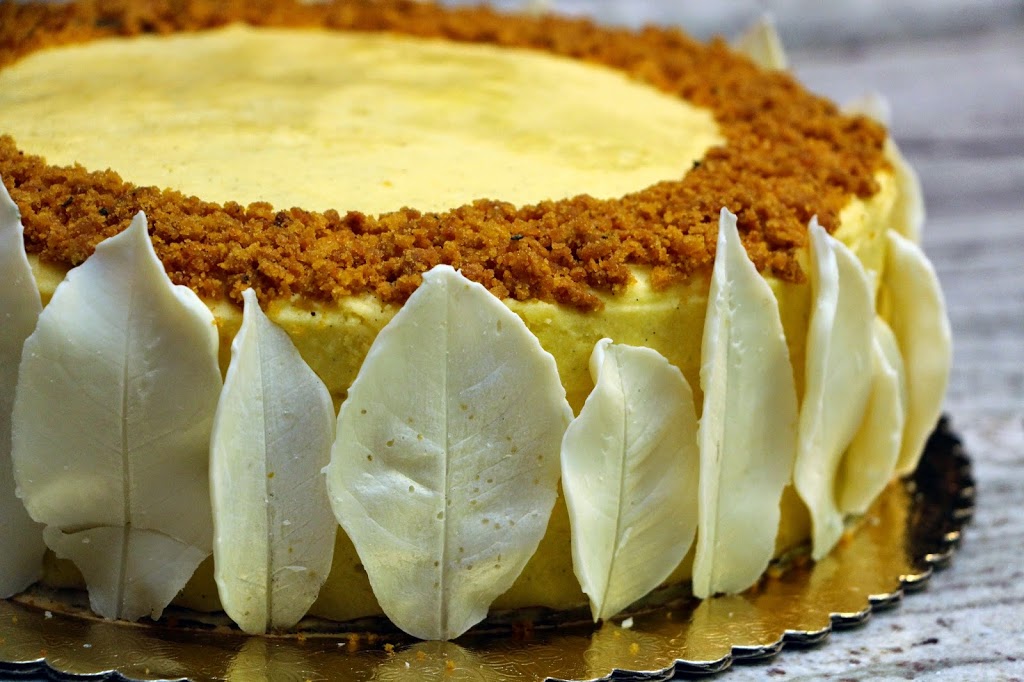 For Thanksgiving this year, I made a pumpkin layered cake, inspired by . . . ingredients on hand. I recently moved, and while I am excited to have a more functional oven and kitchen, I haven't had time to organize the pantry or find all of my tools. Looking at what I had (canned pumpkin, nuts, butter, sugar, mascarpone mousse for Friendsgiving tarts), I decided to make this cake with brown butter sage pumpkin layers, butterscotch pecan filling and mascarpone mousse frosting, with white chocolate leaves and cake crumbs for decoration.
The brown butter sage pumpkin cake comes from Martha Stewart, the butterscotch pecan filling comes from annie's eats and the mascarpone mousse is one of my favorites from Extraordinary Desserts that I've used multiple times.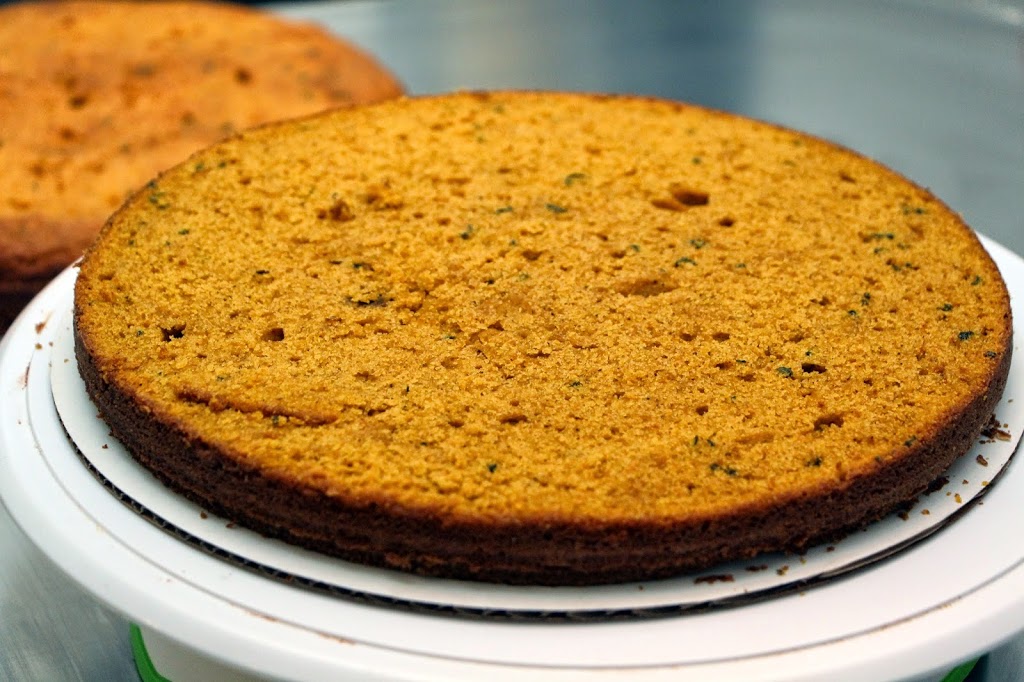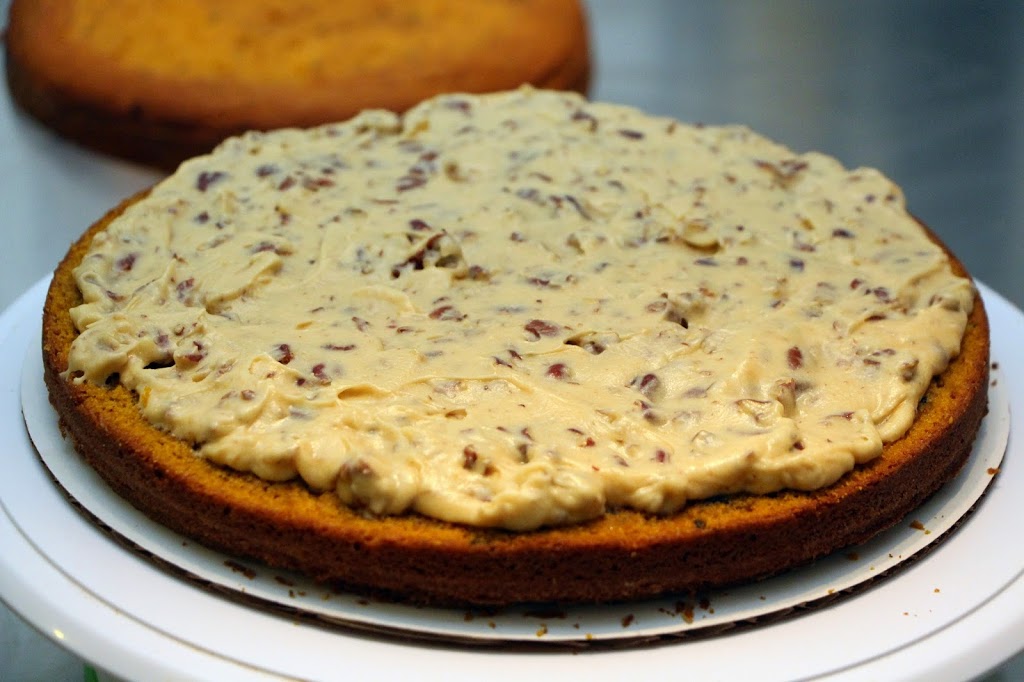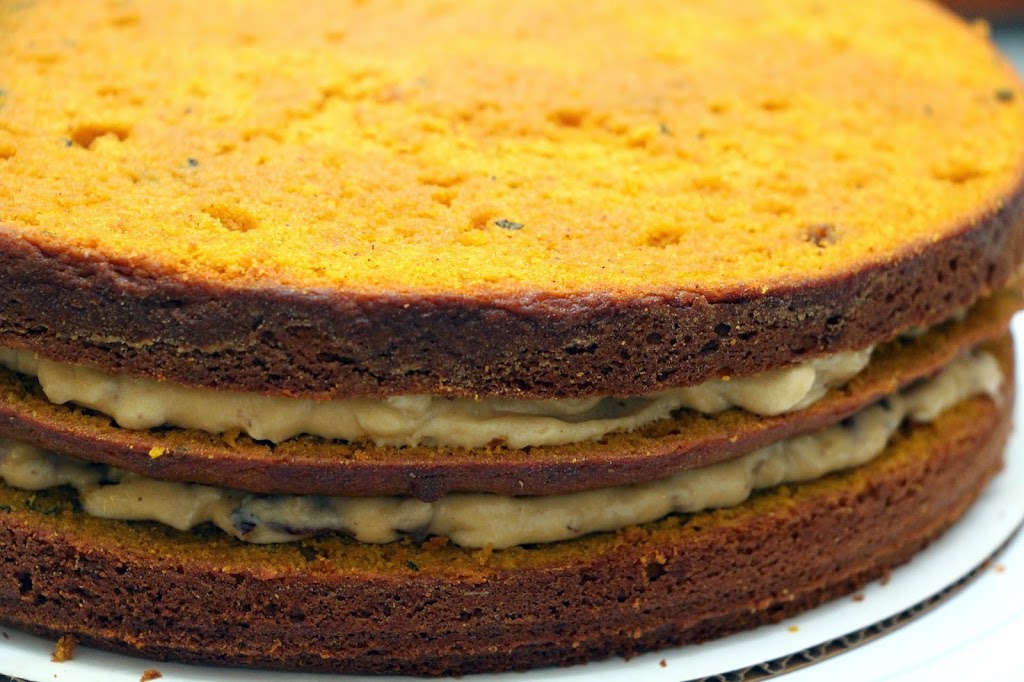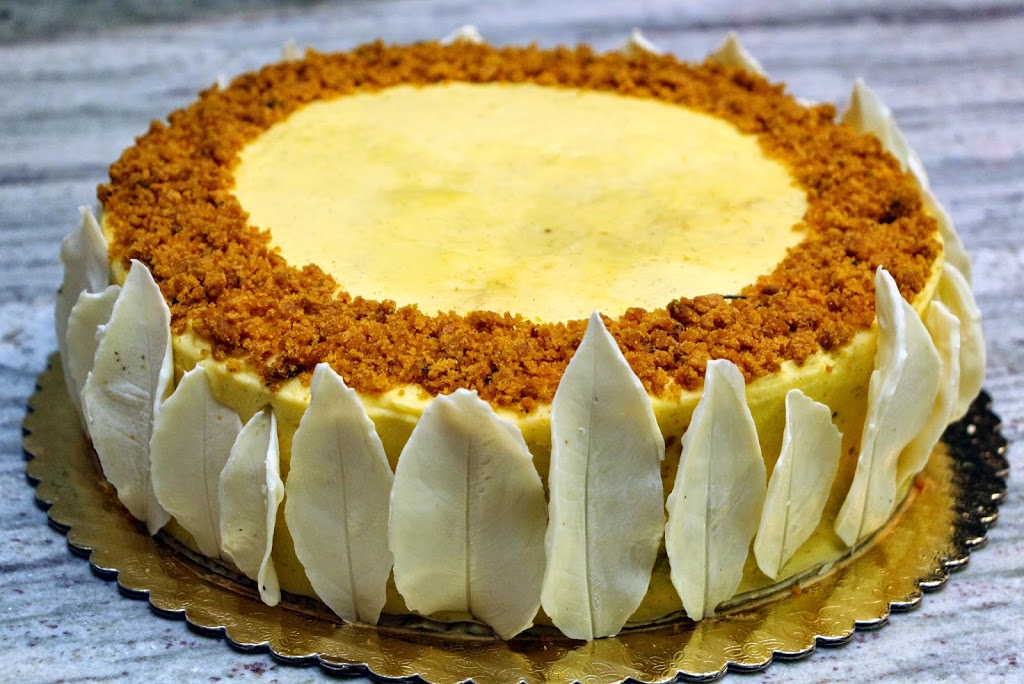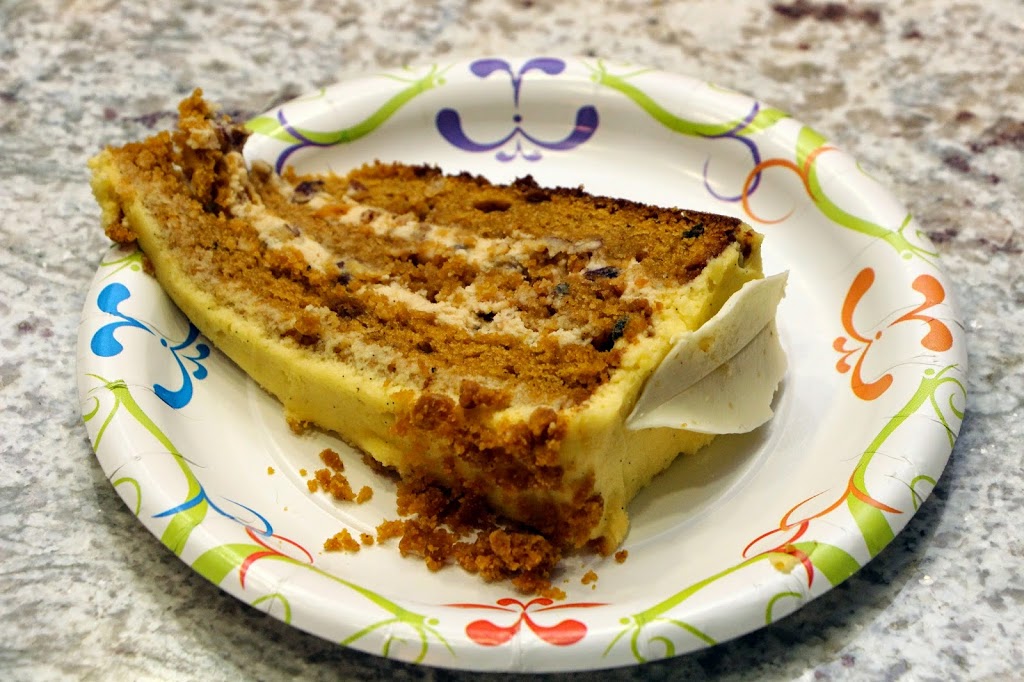 Brown Butter Pumpkin Cake with Butterscotch Pecan Filling
Makes one 9″ cake, or 12 cupcakes

Filling: 
1 cup granulated sugar

Small squeeze of fresh lemon juice (optional, helps prevent crystallization)

1¼ sticks (5 oz.) unsalted butter, cubed

1 cup heavy cream

1 cup chopped toasted pecans
 Cake: 
¾

 cup (1 

½

 sticks) unsalted butter

1 ⅔ cups all-purpose flour

¼

 cup fresh sage (chiffonade)

2 teaspoons baking powder

½

 teaspoon ground cinnamon

¼

 teaspoon freshly grated nutmeg

⅛ teaspoon ground cloves

1 teaspoon salt

1 cup pumpkin puree

1 cup packed light brown sugar

2 large eggs
Also make mascarpone mousse (or any other frosting such as buttercream) and a simple syrup (try brown sugar).
Directions
Preheat oven to 350 degrees.
Make the cake

: 

Melt butter in a saucepan over medium-low heat. Add sage strips and cook until butter turns golden brown, 5 to 8 minutes. Transfer mixture to a bowl; let cool slightly. 

Meanwhile, whisk together flour, baking powder, cinnamon, nutmeg, cloves, and salt. In another bowl, whisk together pumpkin, brown sugar, eggs, and sage-butter mixture. Add flour mixture; whisk until incorporated. 

Pour batter into floured pan; smooth top with an offset spatula. 

Bake until done (about 60 minutes, or when a cake tester comes out clean). Cool, wrap and chill in refrigerator or freezer.

Make the filling: 

Warm heavy cream in a small saucepan (do not boil). In a medium saucepan, combine the sugar and lemon juice and stir with a whisk to combine (add water as necessary to resemble moist sand). [Note: If you're comfortable making a wet caramel, consider skipping the lemon juice. I added too much and ended up with a citrusy filling instead of a true butterscotch flavor.] Heat until sugar caramelizes into a golden amber color. Remove the saucepan from the heat and carefully add the heavy cream slowly, whisking constantly to incorporate. Whisk in the butter, a couple cubes at a time, stirring to incorporate completely before adding the next portion.

Cool the butterscotch in the refrigerator at least 45 minutes, until the mixture is no longer warm and has a slight chill.  Place the chilled butterscotch in a stand mixer bowl and beat for about 2 minutes, until it has thickened and lightened. Fold in the chopped pecans.

Cut cake into 3 layers. Brush cake layers with brown sugar simple syrup, spread filling, repeat, and cover cake with mascarpone mousse. Freeze until ready to decorate and serve.