I was asked if it would be possible to make a dessert with a graham cracker crust, pumpkin cheesecake and pumpkin pie on top. Why yes, I don't see why not! It was an experiment for sure, but here's what I came up with:
Graham cracker crust + pumpkin swirl cheesecake + pumpkin pie + cream cheese frosting with pie crumbs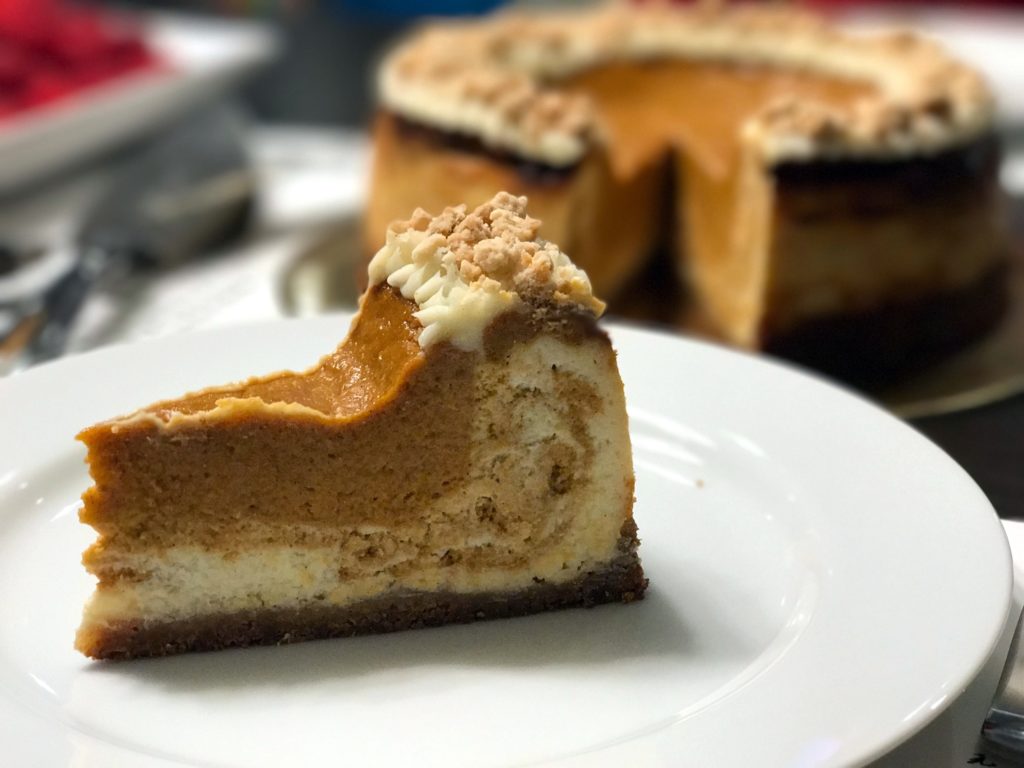 In the future, I think I would first pre-bake the cheesecake layer halfway using the standard bain-marie method to help it set in an even layer, and then add the pumpkin pie filling and completing the bake. I would also have the two layers at the same temperature before baking. As you can see, the cheesecake layer rose on the edges. I had chilled the cheesecake filling first before adding the pumpkin pie filling on top, to help prevent intermixing of the two layers. However, as this dessert baked, this contributed to a big temperature differential due to the edges of the cheesecake being in contact with the pan. The chilling probably works fine if this dessert were baked in a pie crust, which would create a buffer on the sides. In my version, the cheesecake is in direct contact with the pan. That execution issue aside, I'm told this still tasted great!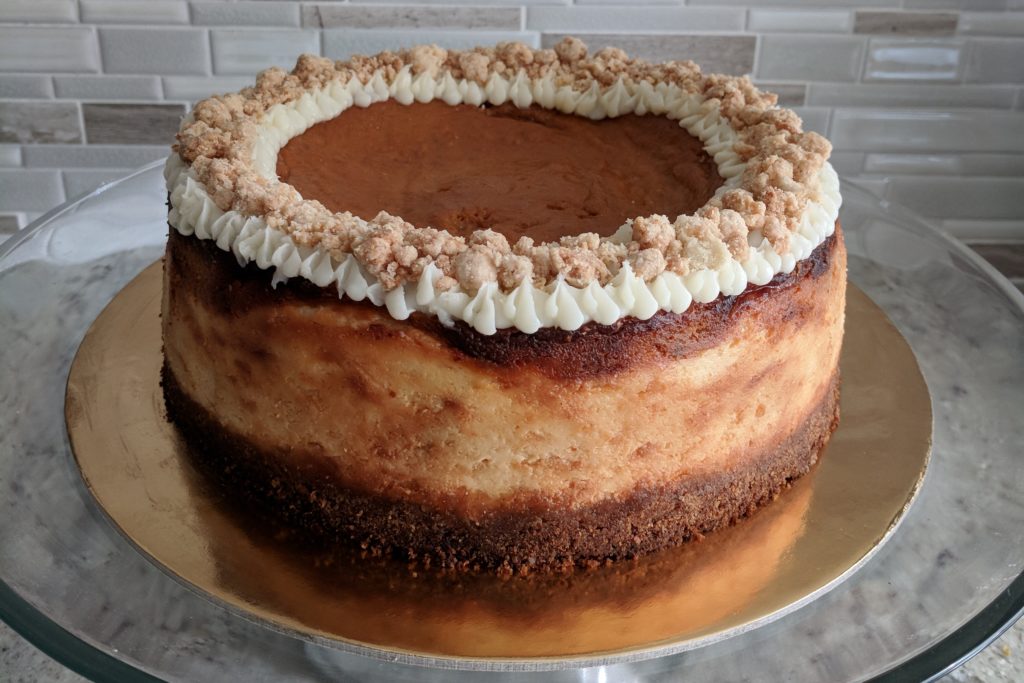 Recipe below, if you'd like to give it a try!
Pumpkin Pie Cheesecake
For 8-9″ cake/pie
Graham Cracker Crust
100 g (1½ cups) graham cracker crumbs
20 g (¼ cup) milk powder
25 g (2 Tbsp) granulated sugar
3 g (¾ tsp) kosher salt
55 g (4 Tbsp) unsalted butter, melted
55 g (¼ cup) heavy cream
Pumpkin Swirl Cheesecake Filling
180 g granulated sugar
670 g cream cheese
70 g sour cream
4 eggs
120 g (½ cup) heavy cream
1 tsp vanilla extract
1 cup canned pumpkin puree
50 g (¼ cup) granulated sugar
1 tsp ground cinnamon
¼ tsp ground nutmeg
pinch of ground cloves
Pumpkin Pie Filling
150 g (¾ cup) sugar
¼ tsp salt
1 tsp ground ginger
1 tsp ground cinnamon
½ tsp ground nutmeg
¼ tsp ground allspice
15 oz. can pumpkin puree
1 cup evaporated milk
3 large eggs, lightly beaten
1. For graham crust: Toss or whisk together dry ingredients. Whisk together the melted butter and heavy cream. Add to the dry ingredients and toss to distribute evenly. The mixture should hold its shape when squeezed in your hand. Press into the bottom of a buttered springform pan (8″ or 9″).
2. For pumpkin swirl cheesecake: Using a paddle attachment and stand mixer, cream sugar and cream cheese until smooth, scraping bowl and paddle well. Add sour cream, and then eggs one at a time on slow speed. Add heavy cream and vanilla, mixing just to incorporate. Remove 1½ cups and pour remaining mixture into prepared pan.
3. Stir pumpkin, ¼ sugar and spices into the 1½ cups of cheesecake batter. Pour or spoon portions into pan, and then use a knife to swirl into regular cheesecake batter.
4. For pumpkin pie filling: Whisk together the sugar, salt, and spices. Add the pumpkin, evaporated milk, and eggs, and whisk gently until smooth. Carefully spoon on top of cheesecake layer.
5. Bake at 425° F for about 15 minutes. Then reduce heat to 350° F and bake for 45 minutes. If not yet done, reduce heat to 300° F ad continue baking until the center just barely wiggles.
6. Let cool before unmolding. Decorate as desired! Adding pie crumbs provides more texture and also reinforces the pumpkin pie flavor profile.