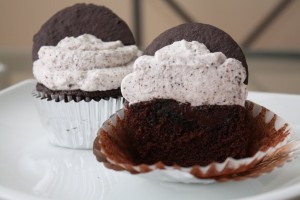 I had been planning this cupcake for a while, thinking about what ways I could make an Oreo cupcake that was something more than just a cake base and buttercream frosting on top. I'm pretty satisfied with the result here, although I think there are many more interesting variations to try. Coincidentally, my sister-in-law baked a version of an Oreo cupcake on the same exact night with a whole Oreo cookie at the bottom, which I definitely want to try next time! I was afraid a whole cookie at the base would burn or disappear somehow, but I hear it stays crunchy and is quite delicious.
Here, I have a chocolate cake with a fudge cookie bar in the middle. The fudge cookie bar is a baked Oreo cookie bar with ganache poured on top. Because the cookie is made from ground Oreos, it is crumbly rather than "crunchy", but I will continue to experiment with that. The ganache adds a smooth creamy moist filling.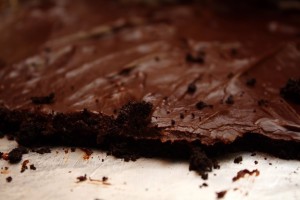 For the frosting, I made an Oreo "mousse." I did in fact try a mousse base, but the egg yolks made the frosting too yellow. Then I tried the same mousse with egg whites instead of egg yolks, but that doesn't hold up. Then I tried a meringue buttercream base without the butter, but the texture and taste just weren't quite right. Finally, I ended up with a whipped cream stabilized with some gelatin, with ground Oreos folded in, and I think I achieved the light fluffy consistency I was looking for. The cookie on top is a Nabisco chocolate wafer, like the type I used in my Icebox Cake. I would not recommend grinding up this wafer for the frosting. The wafer has ground coconut in it, which results in an odd crunch/chew that does not blend well with whipped cream.