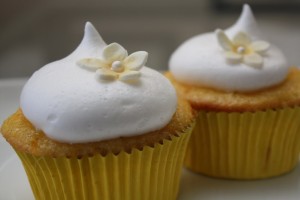 Pig-Pickin' Cake (also sometimes called Pig-Lickin' Cake or Mandarin Orange Cake) is apparently a tradition at a southern barbecue. It is usually served as a layered cake, but this is my vision of it as a cupcake.
The cake portion is essentially a variation on my orange cupcakes, using pureed mandarin oranges instead of orange juice concentrate. I filled these cupcakes with pineapple pudding (crushed pineapples and vanilla pudding), which is what is usually used as the layered frosting. Then I topped the cupcakes off with whipped frosting (a cross between fresh whipped cream and meringue frosting that holds its shape a little better than whipped cream—I had to make sure these would survive a 2-hour drive). Finally, to class these up a bit for a baby shower, I decorated with gum paste flowers, which were brushed with yellow pearlescent powder and accented with pearlized sprinkles. So fun to make!
You can find a recipe for Pig-Pickin' Cake with a simple search online, but here is what I did for the cupcakes:
Cake
* 1 (18 ounce) box yellow cake mix

* 1 (11 ounce) can mandarin oranges in juice

* 4 eggs

* 2/3 – 3/4 cup vegetable oil (I prefer to use less)

* 1/4 tsp vanilla extract
Filling
* 1 (6 ounce) can crushed pineapple (some recipes call for the larger can, but the smaller portion works better as a cupcake filling)

* 1 (8 ounce) container whipped topping (thawed)

* 1 (3.4 ounce) box instant vanilla pudding
Frosting
* 3 large egg whites

* 3/4 cup sugar

* Pinch of salt

* 1/3 cup water

* 1/4 teaspoon pure vanilla extract
Preheat oven to 350 degrees. Line cupcake pans (this recipe should make 24 cupcakes). In a mixing bowl, combine cake mix, mandarin oranges (with juice), eggs, oil and vanilla extract. Beat until mandarin oranges break up. Pour into cupcake liners (about 2/3 full) and bake for 20 to 25 minutes or until a toothpick comes out clean. Note: Do not overfill the liners, as this batter will spill over the edges rather than form a tall mound. Cool in pans for 5 minutes, turn out of pans and finish cooling on wire racks.
In a mixing bowl, combine whipped topping, pineapple (with juice), and vanilla pudding mix. Carve out the center of the cooled cupcakes and fill with the pineapple pudding.
Frosting: In a heatproof bowl set over a saucepan of simmering water, combine the 3 large egg whites, 3/4 cup sugar, pinch of salt and 1/3 cup water. Cook over medium heat, stirring constantly, until sugar has dissolved, about 2 to 3 minutes. Transfer to a large bowl. Using an electric mixer, beat on medium-high until glossy, stiff peaks form (do not overbeat), about 3 minutes; reduce speed to low, add 1/4 teaspoon pure vanilla extract, and beat just until combined. Use immediately.
Simple, and yummy. Enjoy!
I also made baby block cakes for the baby shower. These were brown sugar pound cake with brown sugar cream cheese frosting. It was a learning experience in working with fondant and trying to have a steady hand while piping royal icing. Let's just say, we are giving ourselves an A for effort, and a below average grade for execution =)