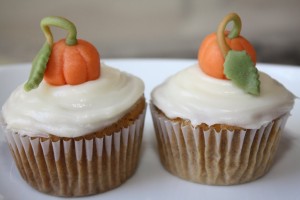 For the office Halloween event this year, I handed out chocolate chip walnut cookies and these pumpkin cupcakes—with cream cheese buttercream and handmade marzipan pumpkins—in lieu of the usual candy fare.
Hm, well, that's not entirely true. I admit I put out some Almond Joys and Snickers to get rid of the surplus from my Costco variety pack, after having picked out all the Crunch and Twix for myself =)
These cupcakes were made at 2am once again, but well worth it to see the trick-or-treaters at work look so eager and happy. I never received cupcakes for Halloween as a kid, but I guess I like to hand out what I would have liked to receive!