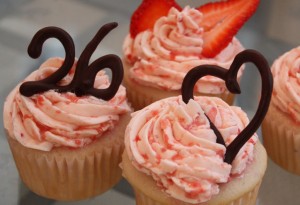 As far as fruit cupcakes go, this is hands-down my favorite: white cupcakes with freshly diced strawberry bits, topped with Swiss meringue buttercream flavored with strawberry puree. With strawberries doing most of the sweetening, this cupcake tastes particularly light, natural and fresh (and perhaps just a tiny bit healthier *wishful thinking*).
Okay, so it wasn't exactly a surprise, given that I asked my hubby to go buy strawberries for his own birthday cupcakes (although it was a surprise in that I didn't tell him until the last minute to do so . . .). In my defense, I was pulling an all-nighter to try to finish as much unexpectedly-assigned work as possible, so that I wouldn't ruin his birthday.
I knew he loved strawberries, as that tends to be his go-to flavor in the dessert department, so we went for a midnight jog to Vons to buy up the last couple of boxes of strawberry left. After he went to sleep, I decided to pipe some chocolate toppings to try to add back some element of surprise.
He loved the cupcakes and I hear his co-workers did as well. I didn't get much sleep, but it was worth it!