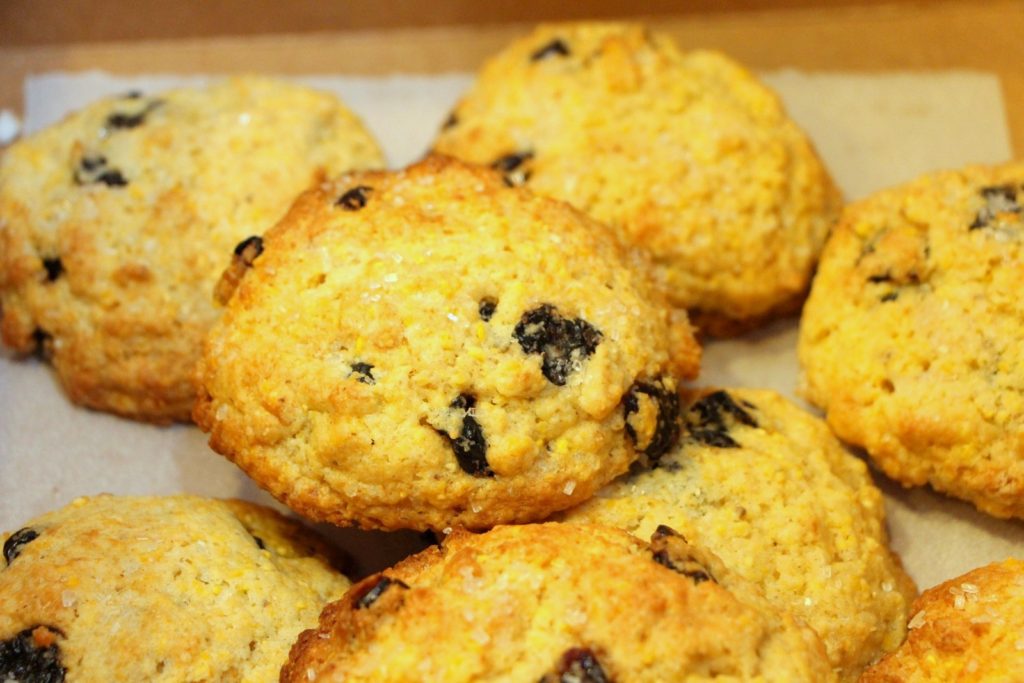 I was introduced to corn cherry scones at the Arizmendi cooperative bakery in Oakland, and vowed to learn how to make them. Fortunately, I learned that this scone is quite the popular one at Bay Area co-ops, and blogger Nicholas Day has already done the legwork to adapt a recipe from The Cheese Board in Berkeley. It is my duty to now share this wonderful pastry with you!
NOTE: This is not your normal scone recipe. You will not be able to form a flat circle and cut into wedges. This dough spreads and flattens as it bakes, so you will need to form round balls. I learned this the hard way!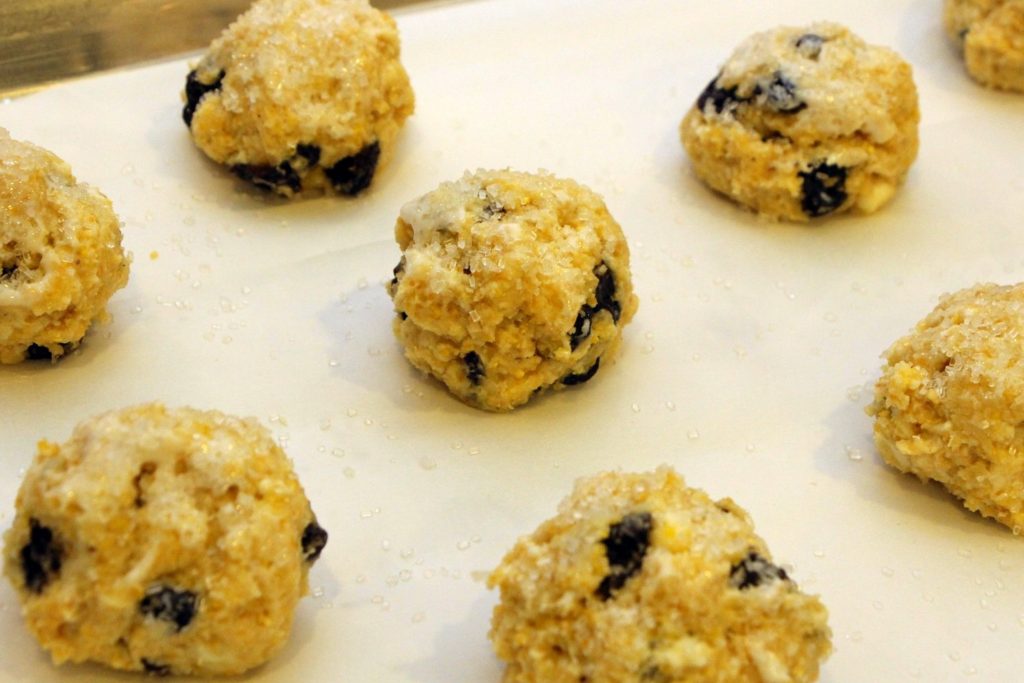 Corn Cherry Scones
Makes 14 small round scones
250g (2 cups) all-purpose flour
½ teaspoon baking soda
1 tablespoon baking powder
½ teaspoon kosher salt
133g (⅔ cup) sugar
195g (1½ cups) cornmeal (medium or fine grind — I use about a 40:60 (medium:fine) ratio)
227g (1 cup or 2 sticks) cold unsalted butter, cut into 1-inch pieces
¾ cup dried sweet cherries (tart works too)
1 cup buttermilk (higher the fat the better)
Sanding sugar
1. Heat the oven to 425° F (this works better for a convection oven — if you don't have one, heat to 375° F). Line 2 baking sheets with parchment paper.
2. In a large bowl, sift together the flour, baking soda, and baking powder. Add the salt, sugar, and cornmeal and mix together.
3. With a pastry cutter or a couple of butter knives, cut the butter into the flour mixture until it is the size of peas. Mix in the cherries, and then make a well in the center and pour in the buttermilk. Mix briefly, just until the dough comes together; it should be stiff and still a little sticky. Let rest for 5 minutes.
4. Form the dough into balls about 2 inches in diameter and place them on the baking sheets a couple of inches apart. Brush with buttermilk, milk or cream and sprinkle generously with sanding sugar. Place in the oven and immediately turn down the temperature to 375° F (or keep at 375° F if that is what you pre-heated to). Bake for 20 to 25 minutes, rotating the sheets halfway through, until the scones are golden. Cool on a wire rack.