I love puff pastry. Maybe because, like pâte à choux, mechanical leavening is involved. In class, we made paillettes, or twisted straws, flavored either with cinnamon sugar, or cheese and spices. However, I was never quite satisfied with the version we made in class, for reasons I'll explain below. Fortunately, last Christmas when I went home to Orange County, I came across a new bakery in Brea, CA called Merely Sweets. To my pleasant surprise, I discovered on their website that the owner is a graduate of the New York campus of my school (f/k/a French Culinary Institute)! No wonder I seemed to recognize most of the desserts in the shop, including cinnamon twists that looked much better than what we made in class.
I was inspired to experiment with new methods to achieve the fatter and more robust twists that Merely Sweets had. I think the result, as seen in the photo above, was much more successful than the ones from class (see photo below).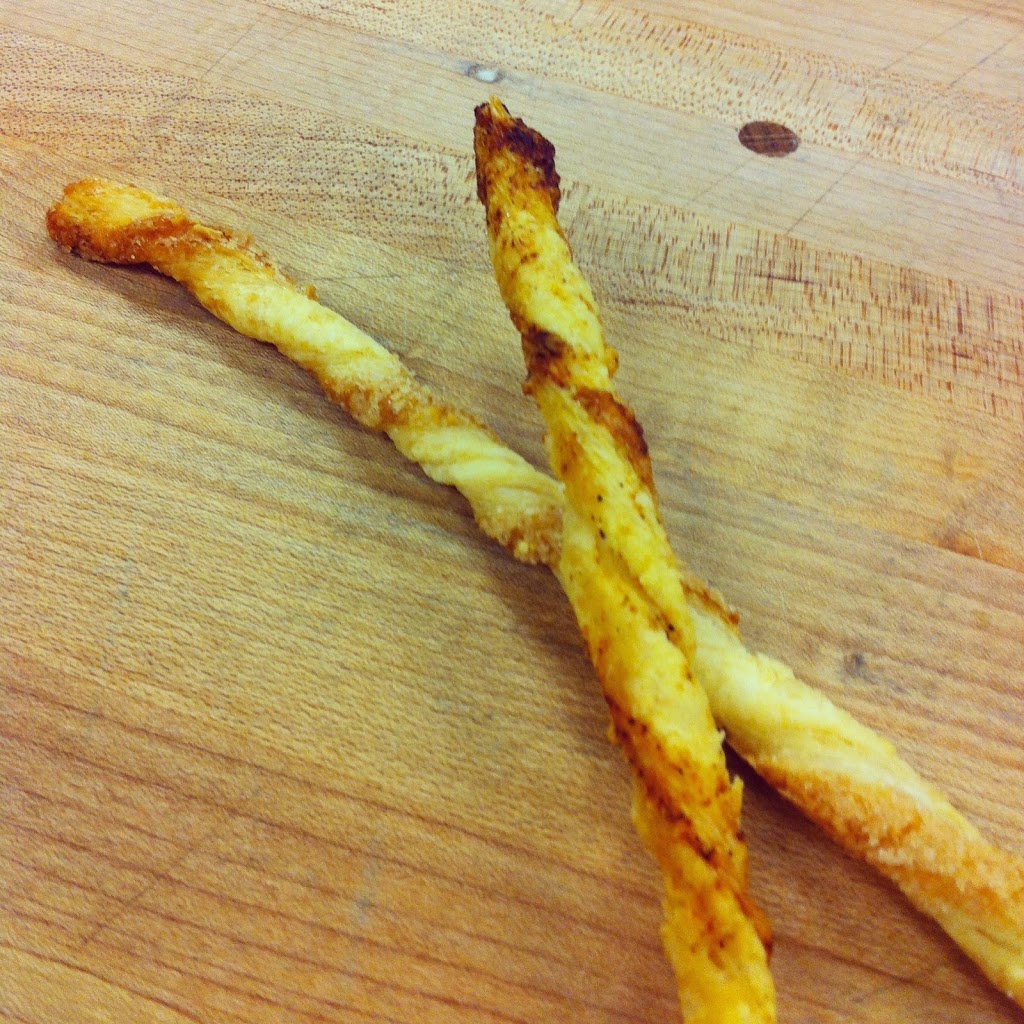 Instead of twisting a single strip of puff pastry dough upon itself as done in class, which I think overworks the dough and results in a harder, denser stick, I cut a longer strip, put the flavoring on one side, folded the strip on itself, and then twist the folded strip. Then, I sprinkled the outer surface with turbinado/raw sugar for extra flavor and crunch. (You can do the same thing with cheese and spices too.) The problem with twisting a single strip upon itself is that on one hand, you want to twist it tightly enough to hold its twisted shape while baking (instead of unraveling), and on the other hand, you want it twisted just loose enough to give the stick some room to puff up. It just doesn't quite work out and the exposed flavoring also tends to burn.
On the whole, puff pastry might have been my favorite unit of pastry school. Learning the technical side of puff pastry demystified the pastry and made so many diverse desserts accessible to me. It takes some amount of work to prepare the dough, and a whole lot of waiting time in between turns of the dough (rolling and folding the dough), not to mention the long waiting time for the dough to chill. But once the dough is made, it's like a versatile, magic play-dough.
Some examples from Unit 3:
Napoleon Strip: my favorite dessert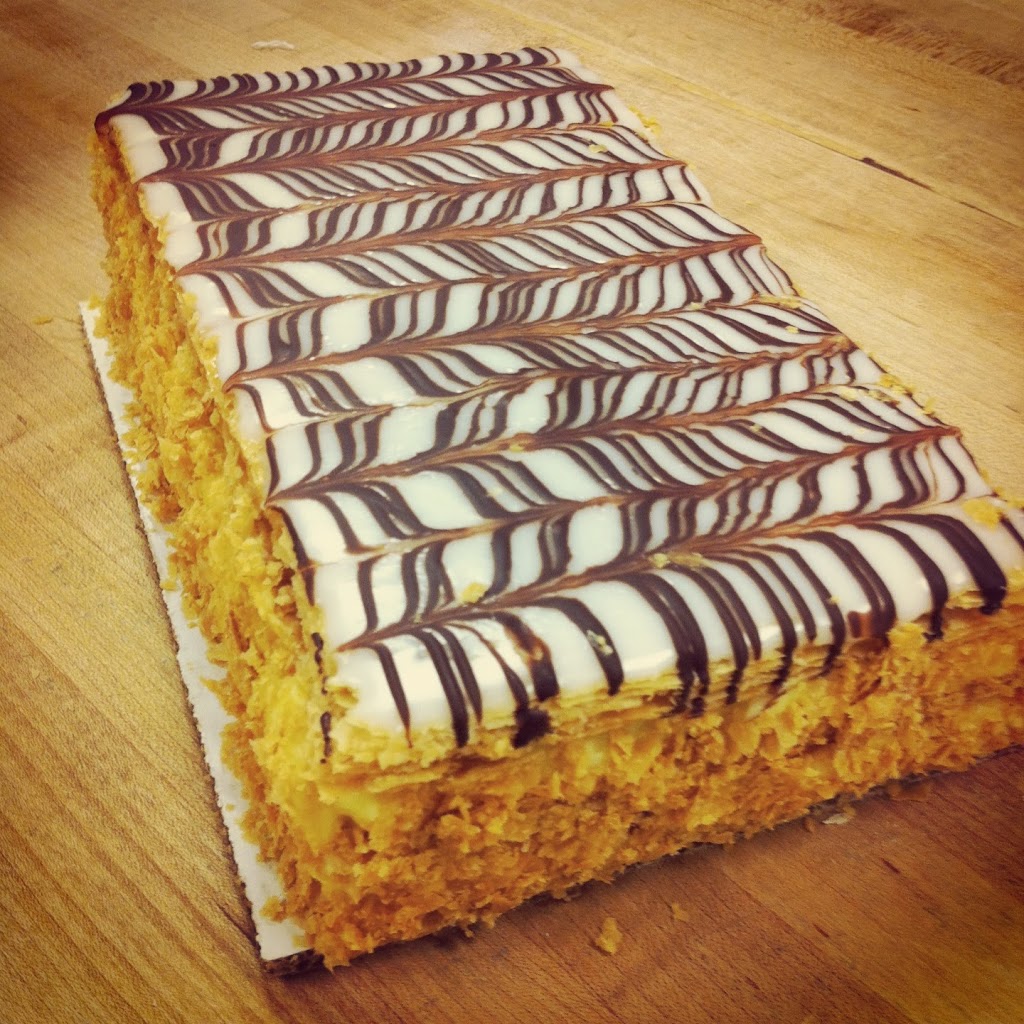 Gâteau Pithivier: puff pastry filled with frangipane (a pastry cream / almond cream mixture)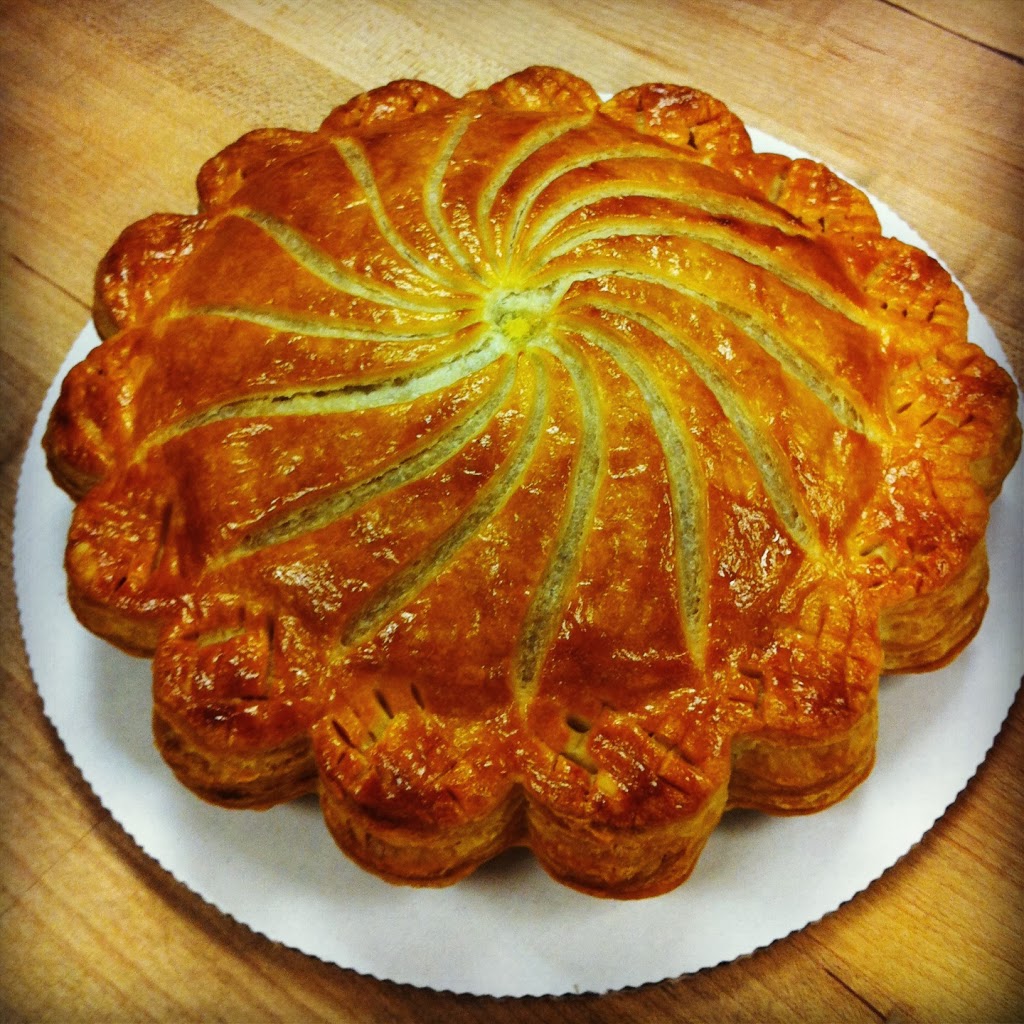 Vols-au-vent: classic hors d'oeuvre vessel for sweet and savory fillings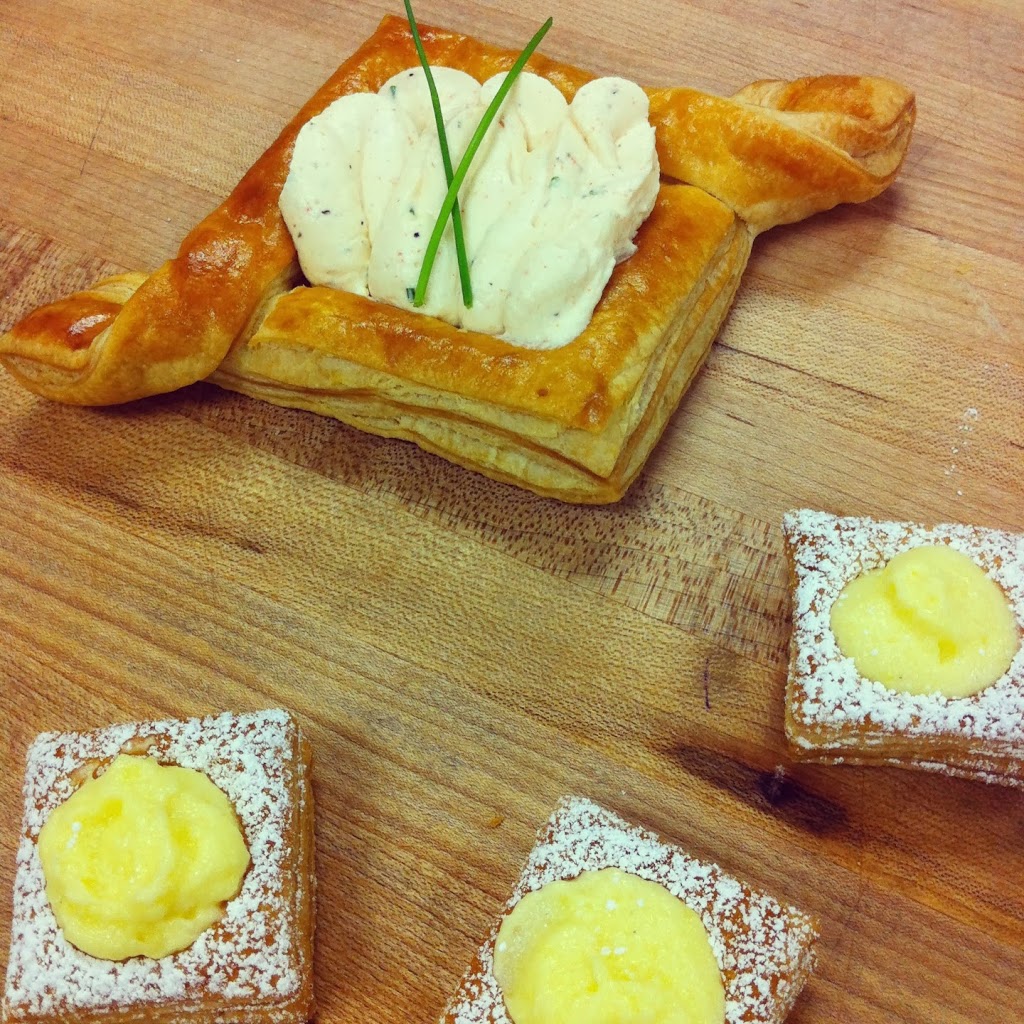 Fruit Strip (bar tart): fresh pineapples and ground pistachios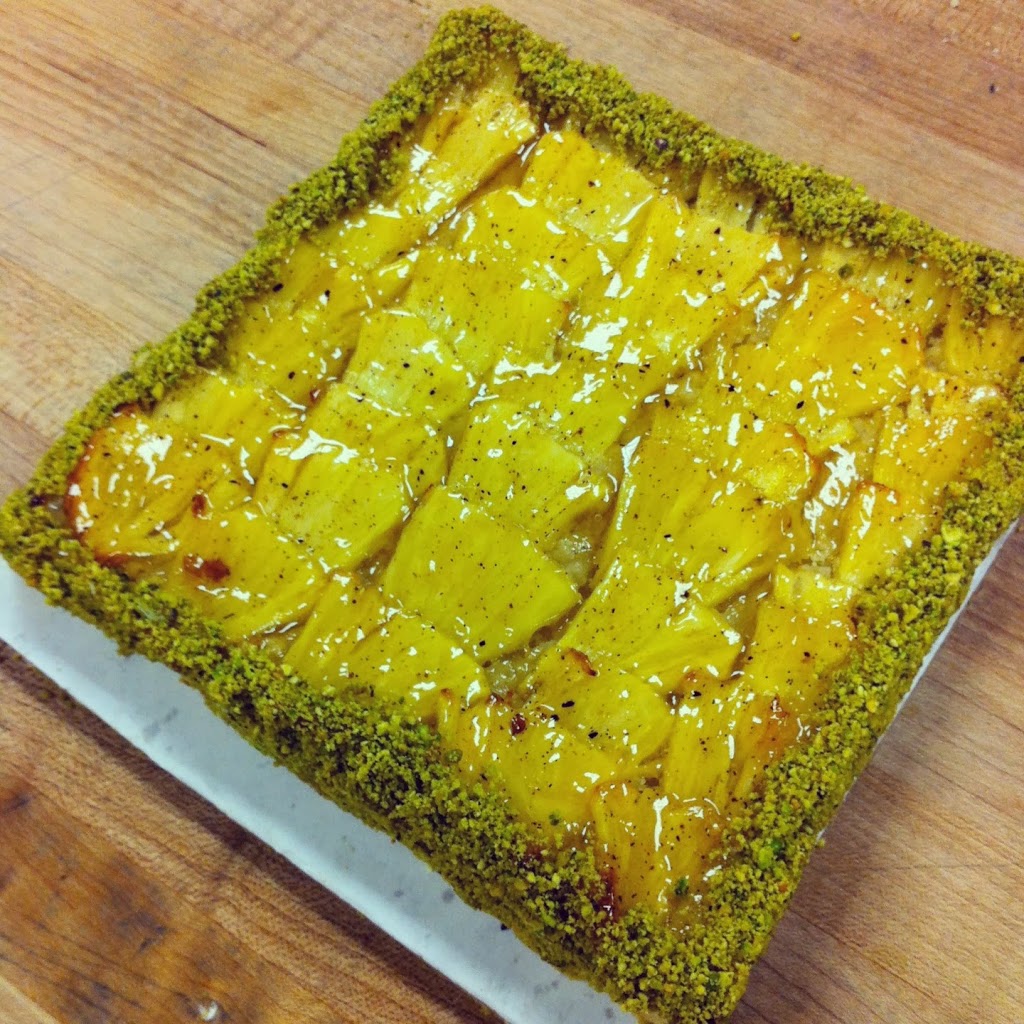 Caged Poached Pears: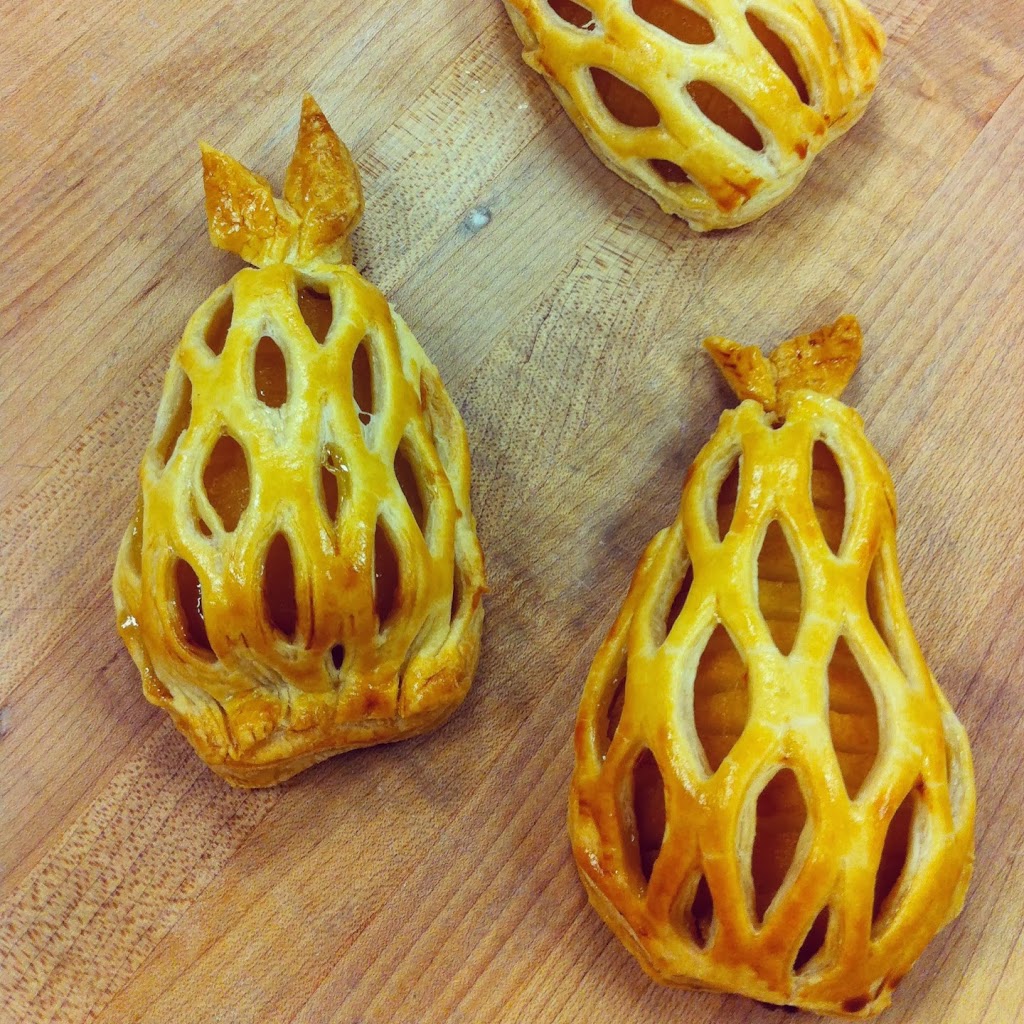 Apricot Galette: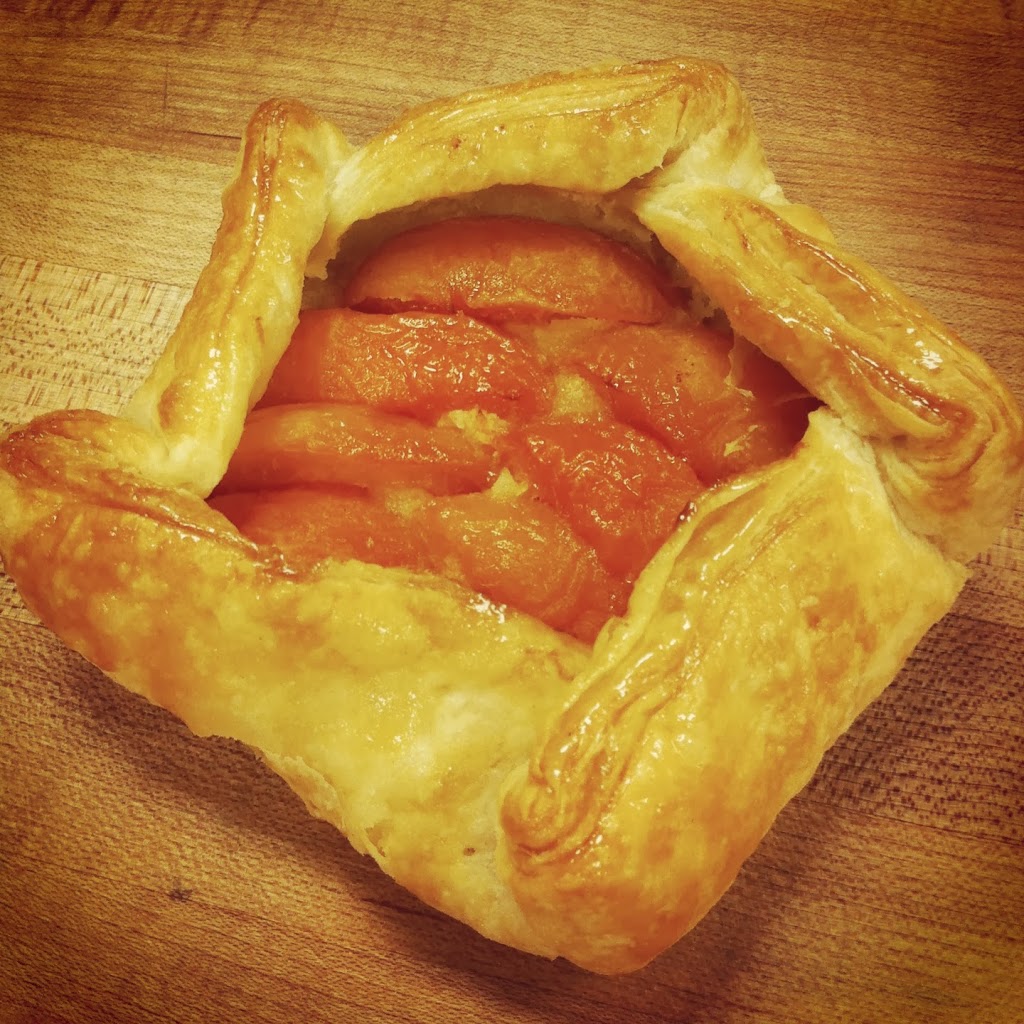 Chocolate Palmiers: displayed only for demonstrative purposes; I otherwise never recommend making or eating chocolate puff pastry (not tasty)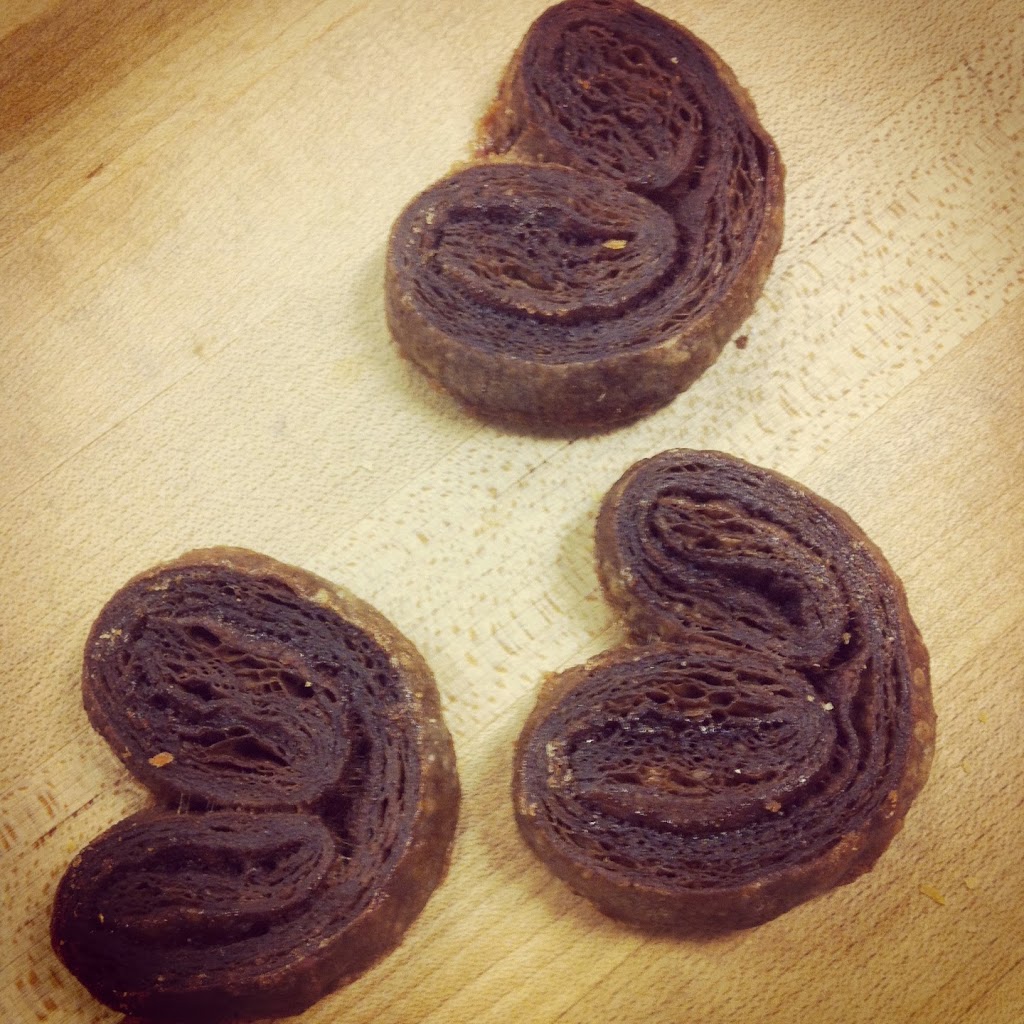 Apple Dartois: apple compote in a lattice
Unit Exam: round napoleon, vols-au-vent, apple galettes