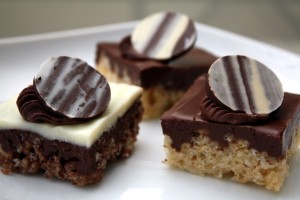 These were inspired by Eric Wolitzky's "Peanut Butter Krispy Bars", the winning dessert on Season 1, Episode 3 of Top Chef: Just Desserts. (You won't be surprised to hear that I love that show—Season 2 premiered tonight!) His recipe was posted with ingredients measured in grams, which is inconvenient if you lack a kitchen scale. I also prefer a higher (rice cereal:chocolate topping) ratio. Once I convert the recipe to more accessible measurements and make some tweaks, I will update this post with a suggested recipe.
There are two versions here:

(1) Regular rice krispie bar covered with a chocolate-hazelnut layer and then topped with a chocolate-peanut butter layer

(2) Cocoa krispie bar covered with the same chocolate-hazelnut layer and then topped with a white chocolate ganache layer
I discovered during this experiment that cocoa krispies weigh more per unit volume than regular rice krispies, so I ended up with about a 3:2 output for these two flavors!
These krispies are decorated with chocolate discs (dark chocolate base with white chocolate or peanut-butter-white chocolate design—not quite "faux bois" but something like that). If I had more time, I think I would have done a full reversal for the cocoa krispie bar (i.e. white chocolate base with hazelnut-chocolate design).